Coming soon a guide to hiking in our area! We are now lucky to have the North Country Trail and the many volunteers who have made it a reality. If you are a hiker please send Clarion Today your stories and pictures of the great hikes in our backyard. clarionradio@comcast.net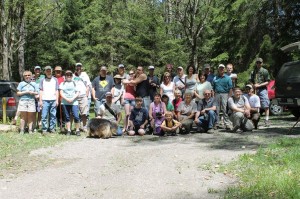 Group Association Photo.
A very inviting set up steps.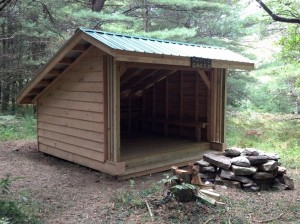 Great camping spot!
The Clarion Chapter of the North Country Trail Association is made up of a number volunteers and hiking enthusiastic. The Clarion Chapters mission is:
Building, maintaining, & promoting the North Country Trail in Clarion County, Pennsylvania.
Clarion Chapter's section of the NCT features majestic old growth forests, the Wild & Scenic Clarion River, multiple opportunities for wildlife viewing and a taste of rural Pennsylvania. Our portion of the trail begins at the Southern boundary of the Allegheny National Forest. The trail shares a pathway with the Baker Trail as it passes through Clear Creek State Forest's Maple Creek Tract and Cook Forest State Park. At Henry Run Waterfall along the Clarion River, the NCT leaves Baker Trail and continues through Clear Creek State Forest through the Gravel Lick area and along a remote section of the National Wild & Scenic Clarion River. Leaving the Clear Creek State Forest area, the trail heads Southwest through State Game Lands and private property in the scenic Toby Creek watershed. After Crossing State Route 322 and a few miles later, State Route 66, there is a very nice section of trail entering PA Game Land 63 after a short walk on East End Road. Passing through State Game Lands 63 and private property the NCNST joins with the Allegheny Valley Trails Associations' Clarion Highlands, Sandy Creek and Allegheny River Trails. On this gentle gradient Rails-to-Trails hike, one can soak in the serenity of the countryside and get a taste of the local culture and history. This blue blazed route contains several pedestrian safe bridges and three tunnels, two of which require flashlights.
Click below for more on the North Country Trail