2019~2020 East Forest Awards Day
June 1, 2020
Valedictorian:  Tessa Korchak
Tessa Korchak, Valedictorian, is the daughter of Sarah and Tim Korchak of Marienville.  She has been accepted to Mercyhurst University majoring in Music Therapy.
Tessa was the Top Academic Student, the Student Council Vice President and Treasurer, member of the Mini Relay for Life Club, President of FCCLA, attended District Chorus and District Band.
She received the Presidential Education Gold Award, Academic Athletic Award, and the Frederick Douglas and Susan B. Anthony Humanities Award.
Tessa was awarded the William E. Snyder Memorial Scholarship, Katie M. Edmondson Memorial Scholarship, Sports Booster Scholarship, Alumni Scholarship, English Award, DAR 19th Amendment Essay Award, John Phillip Sousa Band Award, Holy Redeemer Parish Scholarship, and the KSAC Scholar Athletic Scholarship at the recently held awards ceremony.
Salutatorian:  Luke Cussins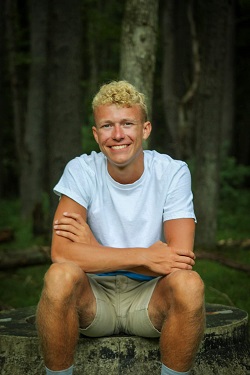 Luke Cussins, Salutatorian, is the son of Andrea and Dan Cussins of Marienville.  He has been accepted to Slippery Rock University majoring in Health and Physical Education.
Luke is a Top 25 Academic Student, Student Council Representative, member of the Foreign Language Club, Varsity Club and Mini Relay for Life Club.  He also participated in the Robotics State Competition.
He received the Presidential Academic Gold Award, Academic Athletic Award, Male Sportsmanship Award and the George Eastman Young Leaders Award.
Luke was awarded the Lions Club Scholarship, Sports Boosters Scholarship, Alumni Scholarship, Soccer Scholarship, KSAC Scholar Athletic Scholarship, Lenna Chips Award during the Awards Ceremony at East Forest.
Lions Club Scholarship: Taylor Andrews, Luke Cussins
English Award: Tessa Korchak
Katie M. Edmondson Memorial Scholarship: Tessa Korchak
Marsha L. Beichner Memorial Scholarship:  Luke Cussins
William E. Snyder Scholarship: Tessa Korchak
Veteran's Club Scholarship:  Taylor Andrews
Alumni Scholarship:  Taylor Andrews, Tyler Bowen, Luke Cussins, Tessa Korchak, Cheyenna Swartz
Veteran's Club Military Recognition: Jonathan Higgins
National Guard Military Recognition Award:  Jonathan Higgins
Military Service Recognition Award Blue Star Mothers: Jonathan Higgins
Sports Booster Scholarship Awards:  Taylor Andrews, Luke Cussins, Tessa Korchak
Xerox Award for Technology: Dominic Drake
KSAC Scholar Athletic Scholarship:  Tessa Korchak, Luke Cussins
Soccer Scholarship:  Luke Cussins
Male Athlete of the Year Award:  Cameron Whisner
Female Athlete of the Year Award:  Megan Clow
Male Sportsmanship Award:  Luke Cussins
Female Sportsmanship Award:  Taylor Andrews
Lenna Chips Award:  Luke Cussins
DAR Good Citizenship Award:   Taylor Andrews
Sen. Scott Hutchinson Good Citizenship Award:   Tyler Bowen, Brandon Healy
Rochester NY Susan B. Anthony/Frederick Douglas Humanities Award:  Desaray Fox
East Forest Faculty Scholarship:  Taylor Andrews
Bausch & Lomb Science Award:   Corbin Micale
Excellence in Chemistry Award:  Desaray Fox
19th Amendment Essay Contest Award:  Tessa Korchak
Holy Redeemer Parish Scholarship:  Tessa Korchak
National School Choral Award:  Taylor Andrews
John Phillip Sousa Band Award:  Tessa Korchak
ACS Mini Relay for Life Awards:  Taylor Andrews, Tyler Bowen, Luke Cussins, Tessa Korchak, Eoghan Montgomery, Taylor Oliver, Ryan Parrett, Daniel Thompson, Olivia Thompson, Jonathan Traugott, Londan Werts
Most Dedicated Educator Award:  Mrs. Sherry Shaftic
Top 25 Academic Students: (1-25)  Tessa Korchak, Kenzie Kopchick, Harmony Fike, Kaylie Rooke, Luke Cussins, Lauren Geraci, Kendra Carroll, Olivia Thompson, Shelby Nelson, Corbin Micale, Taylor Andrews, Christina Micale, Ashleigh Styen, Ryan Parrett, Aletta Summers, Cameron Whisner, Londan Werts, Jayleigh Cochran, Cheyenna Swartz, Haleigh Tebay, Aurora Bauer, Megan Clow, Ethan Adkins, Angel Toth, Thomas Rossey
Presidential Education Gold Award:   12th: Taylor Andrews, Luke Cussins, Tessa Korchak  11th: Corbin Micale  10th:  Shelby Nelson  9th:  Harmony Fike, Kenzie Kopchick, Olivia Thompson  8th:  Kendra Carroll, Kaylie Rooke  7th:  Lauren Geraci, Christina Micale, Aletta Summers
Presidential Education Silver Award:  12th:  Tyler Bowen, Joshua Claypoole, Brandon Healy, Timothy Rossey, Cheyenna Swartz, Londan Werts, Cameron Whisner  11th:  Dominic Drake, Desasray Fox, Eoghan Montgomery, Tessa Rodgers, Jonathan Traugott  10th:  Xandria Burchfield, Cameron Marzzarella, Ryan Parrett   9th:  Megan Clow, Ashleigh Styen  8th: Taylor Oliver  7th:  Jayleigh Cochran, Jacob Healy, Logan Melego, Kira Stinner, Peighton Trout
Page 1 of 2
Student Council Awards: President: Taylor Andrews  Vice President: Tessa Korchak  Secretary/Treasurer: Desaray Fox    Representatives ~ 12th: Luke Cussins, Franklin Meals, Kasidy Robinson, Cheyenna Swartz  11th: David McCullough, Tessa Rodgers, Catherine Rossey, Jonathan Traugott  10th: Eliana Beatty, Shaylee Carbaugh, Declan McLaughlin, Ryan Parrett  9th: Megan Clow, Kenzie Kopchick, Thomas Rossey, Olivia Thompson  8th: Jacob Cotherman, Taylor Oliver, Kendra Carroll, Matthew Zeigler  7th: Jacob Healy, Logan Melego, Christina Micale, Aletta Summers