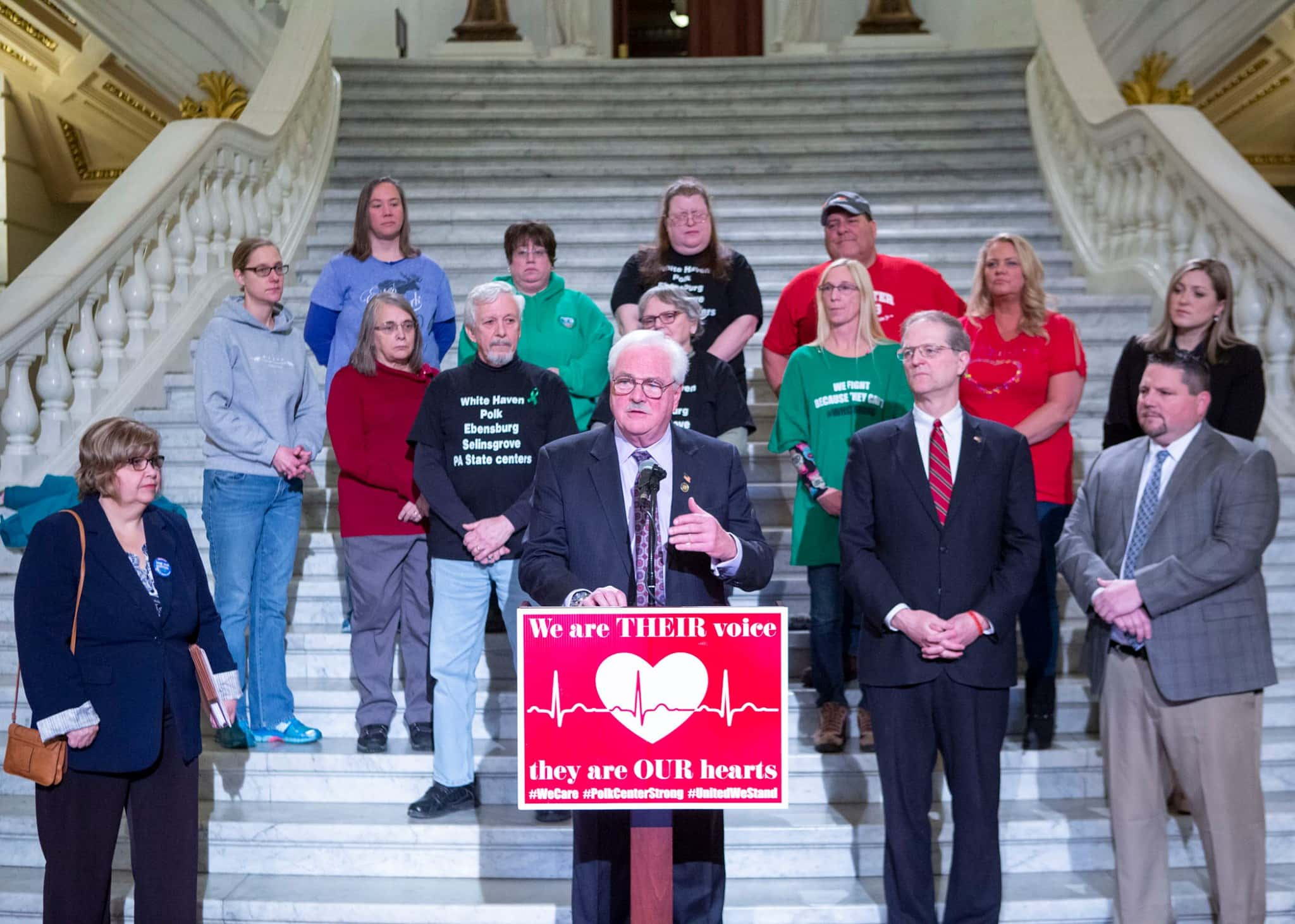 HARRISBURG – Rep. Lee James (R-Venango/Butler) announced that Gov. Tom Wolf vetoed legislation that would have protected Polk and White Haven residents from eviction before an appropriate plan for closure has been created.
Despite the strong support from thousands of Pennsylvanians, the governor refused to support legislation that would have provided time to consider whether closures are the best option for residents. If that choice was made and at least five years had passed from the bill becoming law, the legislation would have also required that a sensible plan be created for the transition of residents to their new homes.
Senate Bill 906 also had strong support in both chambers of the General Assembly.
"The governor favored his opinion over the voices of so many, and it's disappointing beyond belief. Government is supposed to serve the people, but it failed today. The residents, their loved ones and the dedicated caregivers at the state centers deserve better," James said.
James indicated his support of a veto override. For that to be successful, the House and Senate would have to take an additional vote. Both votes would need a two-thirds majority.
The other option – which is already in process – is the lawsuit against Gov. Tom Wolf, Polk and White Haven centers, the administrators of both centers, Secretary of Human Services Teresa Miller and Deputy Secretary of the Office of Developmental Programs Kristin Ahrens.
"While lawsuits don't happen as quickly as we would hope in this situation, it is another way to save the residents," James said. "Our work is not done yet, so I humbly ask for your continued support as we fight on behalf of those who cannot fight for themselves."
James Outraged that House Didn't Vote to Give Appropriate Thought to State Center Closures
HARRISBURG – Rep. Lee James (R-Venango/Butler) announced that a bill to keep all state centers – including Polk – open until an appropriate plan for closure is in place and at least five years has passed from the bill's passage will not advance through the legislative system.
The centers' residents continue to face eventual eviction against their will. The closure of Polk State Center would also result in the loss of more than 700 jobs in an area that is already struggling economically.
In August, Gov. Tom Wolf mandated closure of both centers, but legislators fought back after watching residents' families and caregivers – as well as community members – rally together. In fact, more than 4,000 people digitally signed an electronic petition opposing the closures that James created.
"Today's vote is an unfathomable loss not only for the residents and their families, but also for our entire community. Thousands of people came together to voice their concerns, actively participating in the legislative process as they advocated for this life-changing cause," James said. "And yet, it wasn't enough. This outcome is disappointing beyond measure."
As Senate Bill 906 did not receive sufficient support from the House, it will not advance to the Senate for a concurrence vote.
"Now, Polk and White Haven families and the people who work there need our support more than ever as they are forced to act in accordance with this injustice so the impact on residents is minimized," James added.