Need some ideas for Valentine's Day? Looking to take the love of your life on a romantic date in Clarion County? Look no more- because we at C93 have put together the perfect guide to make your Valentine's Day memorable.
Dan Smith's Candies & Gifts
The key to just about any lover's heart is chocolate- especially for the ladies. Why not check out these mouth-watering chocolate covered strawberries at Dan Smith's Candies and Gifts? Each fresh strawberry comes fully coated with their signature creamy milk chocolate.
Due to the limited availability, pre-ordering is strongly suggested.
Brookville: 814-849-8221
Clarion: 814-227-2255
DuBois: 814-371-2117
Indiana: 724-403-3928
Ridgway: 814-772-4707
Available 2/12, 2/13 and 2/14 – $20.95 lb. & $10.95 1/2 lb. Call and order! They are also accepting emails at amy@dansmithcandies.com
The Clarion Moose
Ready for some laughs? Then get your tickets to the 6th annual Valentine's Comedy Night and Spaghetti Dinner on Saturday, February 15th at the Clarion Moose. You will enjoy a home cooked Spaghetti Dinner and 2 hours of great comedy! Tickets are $30 per person and now on sale. Call Tim McGrinni at 229-3239.
Kreative Kuts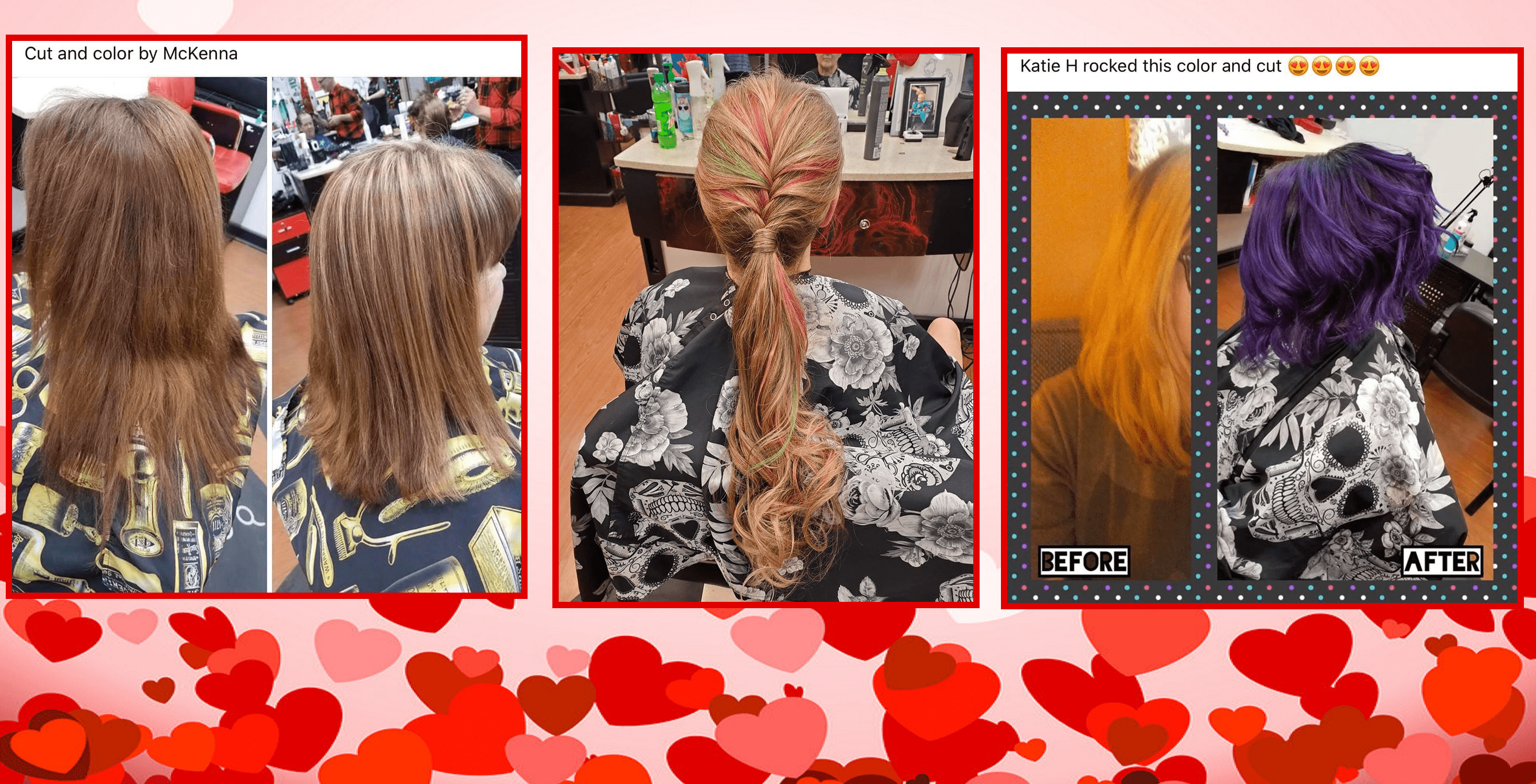 What better way to impress your date than with a new look?
Kreative Kuts offers services on the latest hair styles, colors, and products, with great prices to fit every budget! Stop by for your hair makeover
Call them right now to schedule an appointment at 814-297-8238.
The Liberty House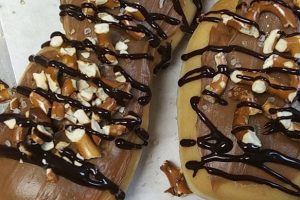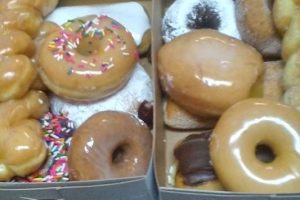 The Liberty House in Clarion is open for Valentine's Day from 4pm-8pm. If you're looking to take your date out for some great food, dinner for 2 is only $25! Several menu options are available, including sides, beverages and dessert. And don't forget about their signature doughnuts! Call 814-226-7527.
Zack's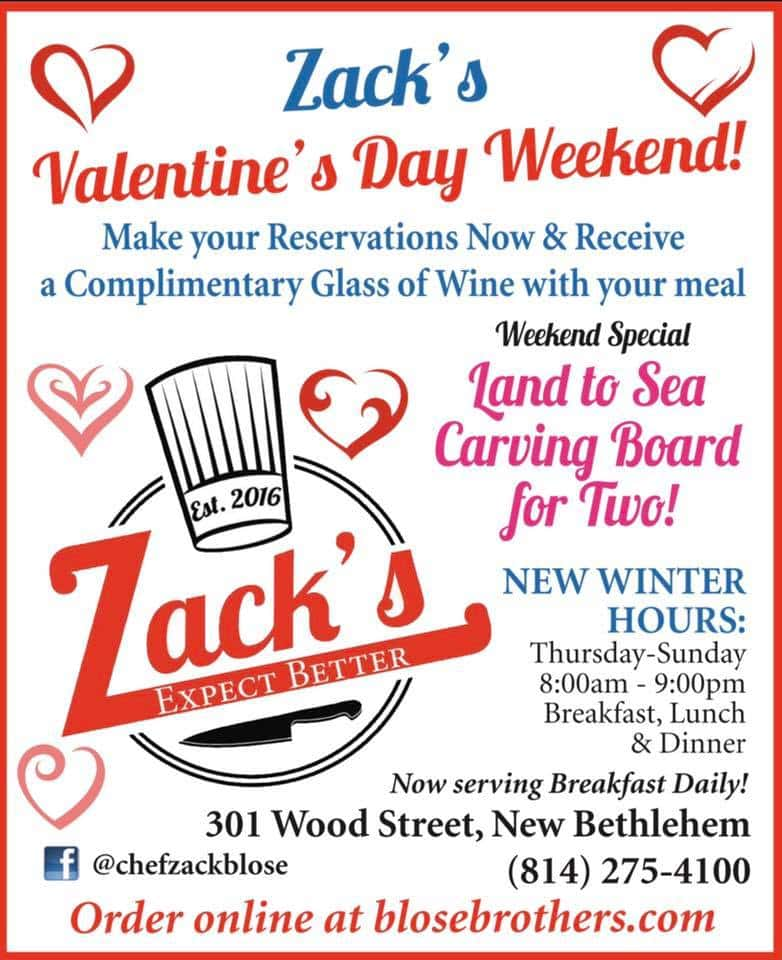 Nothing's more romantic than wining and dining, and Zack's in New Bethlehem has you covered. Call and make a dinner reservation all weekend long and receive a complimentary wine tasting sponsored by Porchvue Winery. In addition to their regular menu, Zack's will feature a special Land & Sea Carving Board for two.
Porchvue Winery is also offering a bottle delivery service and a 14% discount to those with a dinner reservation. Call the winery, stop in and test out their tasting room, and find your new favorite wine. Name your flavor and your discounted bottle will be delivered to Zack's before your special night out. Porchvue Winery's bottle delivery service is available any weekend you want to make a reservation at Zack's and need a good bottle of wine to go with a great meal.
Call the restaurant during business hours (Thursday – Sunday 8:00a – 9:00p) to make your reservation ASAP. (814) 274-4100. It will be an extremely busy weekend and walk-ins may be limited. Call Porchvue Winery at (814) 319-8729 to pay for your bottle prior to delivery.
Cricket Song Cafe
Head on down to Cricket Song Cafe for Valentine's Day on February 14th and 15th. Special select menu options are available, including sides, beverages, and dessert. Call 814-226-7575 for your reservations.
Snug Harbour
Snug Harbour is serving up a special Valentine's Dinner for Two on February 14th and 15th.
Choice One: 10 oz. Lobster Tail Dinner
Choice Two: 10 oz. Lobster Tail & 6 oz. Filet Dinner
Served with Baked Potatoes, Choice of Vegetable, Salads, Rolls & Dessert.
Make your reservations at 814-275-3355
Snug Harbour is located on 6647 Route 66, Fairmount City