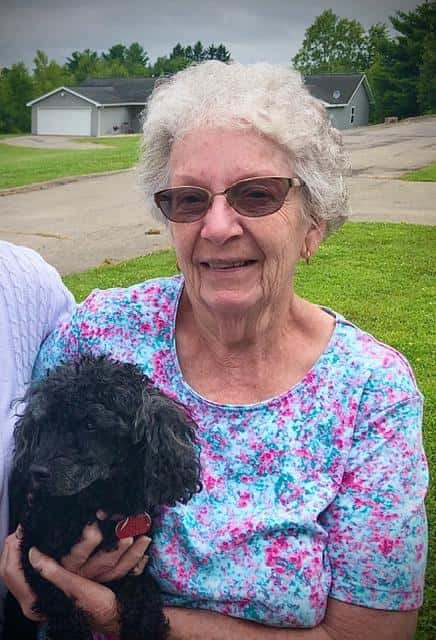 Patricia Jane Kean, born January 2, 1936 in Clarion, she was the daughter of the late Roy Miller and Helen Miller Cartwright of Clarion. She passed away on Thursday November 14, 2019 at her home. She was the beloved mother of Rodney Orcutt of Clarion and Sandra (Daryl) Mong of Whitewood, SD and Dennis (Tracey) Orcutt of Charlotte, NC. Our mother was the best, ever interested and supportive of her children, grandchildren, great grandchildren and nieces and nephew.
Pat, as she was known, and her mother Helen Cartwright, operated Helen's Beauty Shop in the Cartwright home on South Fifth Avenue for many years.
After raising her family, Pat's home was always open to her children and grandchildren. She was an excellent cook and enjoyed hosting holiday meals for her family.
She loved growing flowers and had a collection of African Violets which she nurtured and shared with others. Knitting and crocheting became a favorite pastime in her later years, donating many pairs of beautiful mittens to needy children. Her sweet dog Niki was gentle companion until the summer of 2018.
In addition to her three children, Pat is survived by her grandchildren, Jared Orcutt of Raleigh, NC, Tyler Orcutt of Indiana, PA, Jason (Melinda) Mong of Watkins Glen, NY, Jessica (Ed) Mintonye of Palmyra, PA, Josiah Mong and James Mong both of Watford City, ND. Great Grandchildren: Andrew and Zachariah Mintonye of Palmyra, PA and Zachary Mong of Flagler Beach, FL. Nephew Jeff Miller of Washington, DC, a niece Julie Reeves of Rochester Hills, MI.
Pat was preceded in death by her father Roy Miller, a son William (Billy) Orcutt, stepfather, Paul Cartwright and mother Helen Miller Cartwright, a brother David Miller and granddaughter, Janna Mong.
Pat's wishes were that there be no visitation or funeral services.
Friends and family may send online condolences, order flowers and memorials, and obtain additional information by visiting www.goblefh.net.