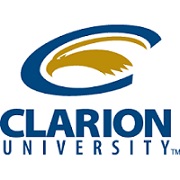 CLARION – Clarion University and the Department of Intercollegiate Athletics announced today that home athletic competitions will take place in the newly renovated Tippin Gymnasium starting this weekend, and that most spaces in the building will be open to the public at that time.
The first scheduled home events are volleyball matches, with the Golden Eagles hosting Mercyhurst on Friday, November 15 at 7 p.m. and Gannon on Saturday, November 16 at 1 p.m. Wrestling will make its debut in its new home on Sunday, November 17 at noon when they host George Mason in the Golden Eagles' Mid-American Conference opener.
"We are beyond excited to return to Tippin Gymnasium this weekend," said Director of Intercollegiate Athletics Dr. Wendy Snodgrass. "This is a moment that our coaches, athletes, alumni and fans have looked forward to since ground was broken last year, and I am sure it will be a moment they will never forget."
While competitions in the building will begin this weekend, some areas are still undergoing final phases of the renovation. As such, not all parts of the building will be accessible to fans, and certain features of the in-arena entertainment system are not yet installed. Plans are being developed for an official grand opening of the building in the spring semester.
"In our internal discussions, we thought it was important to give our volleyball and wrestling student-athletes the chance to close and open their seasons, respectively, in the facility," Snodgrass said. "This was an opportunity to give them a special experience competing on that Tippin floor for the first time in two years. We ask that our fans show understanding, and help create a positive atmosphere by cheering on these deserving young men and women this weekend."
Parking and Entering Tippin Gymnasium
Fans attending this weekend's events are encouraged to park in Lot 12 (between Marwick-Boyd Auditorium and the Student Recreation Center), as well as Lot 11 (across Greenville Ave. from Tippin Gymnasium). The main entrance is located off Payne Street – which will be closed to car traffic ‑ on the interior of the campus. Handicap accessible entrances are available under the main entrance.