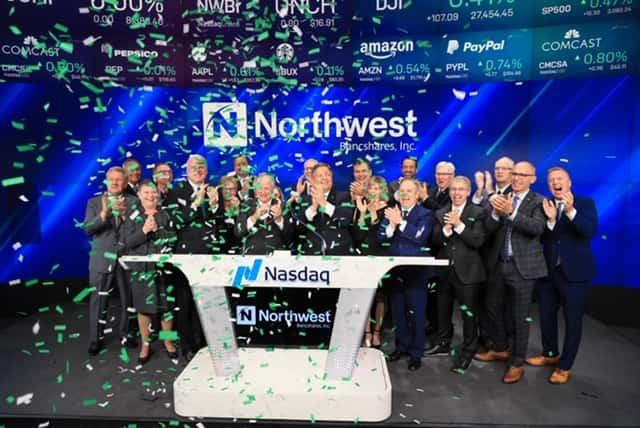 WARREN, PENNSYLVANIA, NOVEMBER 5, 2019– On November 4, 2019, Ronald J. Seiffert, President and CEO of Northwest Bancshares, Inc. (Symbol NWBI), the holding company of Northwest Bank, along with members of executive management and the board of directors, rang the opening bell on NASDAQ to celebrate 25 years as a publicly-traded company on the NASDAQ Global Select Market.
The NASDAQ Global Select Market has the listing standards of any exchange in the world based on financial and liquidity requirements.
"Since its inception in 1896, Northwest has demonstrated a pattern of sustained expansion resulting from a balance of consistent internal growth and a series of successfully-executed mergers and acquisitions," said David Wicks, Vice President, NASDAQ OMX. "I want to congratulate everyone at Northwest on their success. NASDAQ truly looks forward to supporting Northwest Bancshares as you continue to grow as a NASDAQ-listed company."
During his remarks, Ron Seiffert noted, "We're truly honored to be here celebrating our 25th anniversary. During moments like this, it's certainly natural to step back and reflect on 25 years in the industry and as a company. Today we stand as a growing, forward-looking, customer-centric community bank focused on providing value, trust and loyalty to our employees and customers."
"Our greatest strength has been and continues to be our people," he continued. "Collectively, we thank our shareholders for the confidence you've had in us over the last 25 years and look forward to delivering superior value over the next 25 years."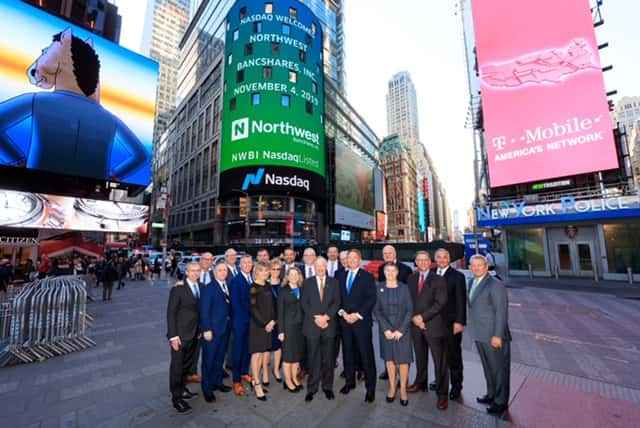 About Northwest Bank
Northwest Bank operates 172 full-service offices and 10 free-standing drive through locations. Founded in 1896, Northwest offers a complete line of personal and business banking products including employee benefits, investment management services, insurance and trust. Northwest Bancshares, Inc. is the holding company of Northwest and is listed on the NASDAQ Global Select Market as NWBI. More information about Northwest can be found online at www.northwest.com.