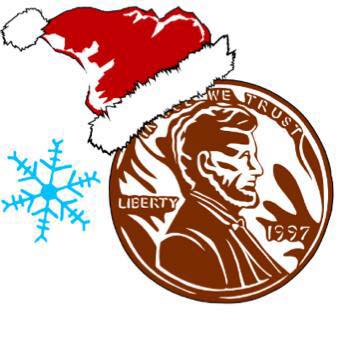 Dreams Really Do Come True:  Pennies from Heaven
Celebrating 24 years of gift giving to Clarion County children, Pennies From Heaven arose from a dream – to help children in need experience the joy of receiving Christmas gifts.  The 2019 Distribution day is set for Thursday, December 12th at Zion Church  – working parents in need please call Community Action (814-226-4785) to register. {Unemployed families can receive assistance by contacting Charitable Deeds 814-797-0286}
We are pleased to share that ALL donations to Pennies from Heaven remain in Clarion County. How wonderful to be a part of Christmas dreams coming true for children of Clarion County! Please consider supporting Pennies from Heaven as we continue the tradition of giving Christmas joy to children in Clarion County. Tax deductible donations can be mailed to Pennies from Heaven PO Box 222, Clarion, PA  16214.
Drop off new toys, games, socks, underwear, undershirts, hats, scarves, books, crayons, school supplies and blankets – at the following locations:    (Toy Drop-off deadline is Sunday, Dec. 8th)
Clarion American Legion
Applewood Chiropractic
Clarion County Community Bank
Community Action, INC.
Dan Smith's Candies
Flynn's Tire and Auto Service
FUN Bank
Grace Lutheran Church
Kids Choice Main Street Day-Care
S & T Bank – Clarion and New Bethlehem   (has box – needs poster)
C93 Radio – Greenville Pike
Clarion Elementary School
Creative Kids Learning Center
First United Methodist Church
Holiday Financial – Clarion Mall
Marianne Pharmacy
Primary Health Network
VNA Clarion
YMCA