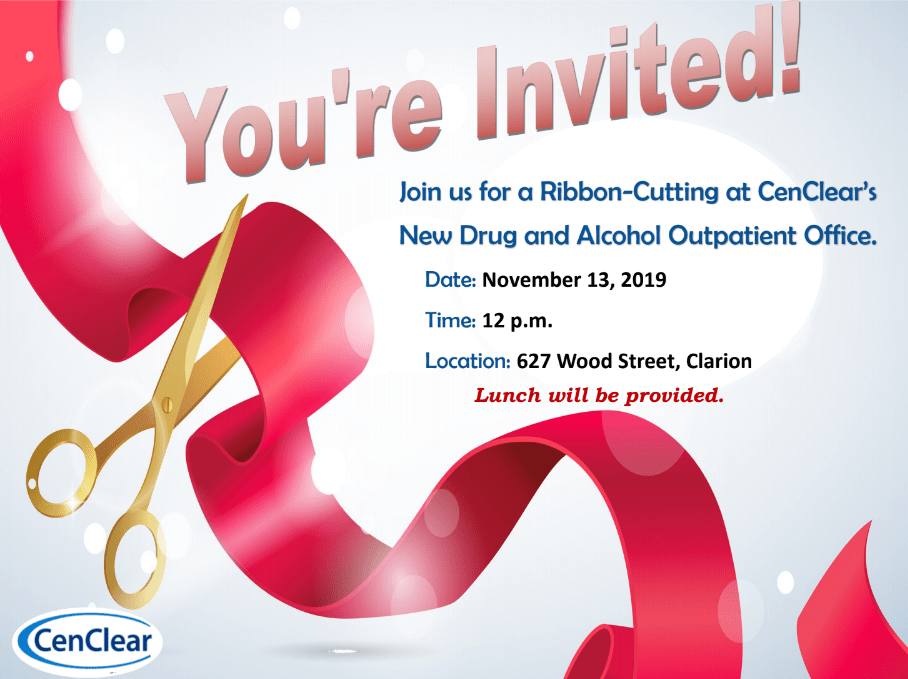 BIGLER, PA — Addiction and substance abuse affects more Americans than heart conditions, diabetes or cancer, according to the Center on Addiction. Forty million Americans over 12-years-old have substance abuse problems and another 80 million people engage in risky use of addictive
substances. With statistics like these it's more important than ever to have help available in rural communities like Clarion.
CenClear is proud to be able to offer help to those facing addiction. Our new drug and alcohol outpatient office at 627 Wood Street, in Clarion is here to help those facing drug and alcohol addiction and gambling addiction. It is estimated that over 300,000 Pennsylvania citizens are affected by gambling problems according to the Pennsylvania Department of Drug and Alcohol Programs and now help is available close to home.
CenClear is proud to also offer the Wellness Program at our Clarion office. The Wellness Program works to promote overall well-being in eight areas including education on preventative care, discussing how to talk to providers about recovery-related concerns and tobacco cessation assistance. The Clarion office, a North Central Trauma-Informed Care Center, offers drug and alcohol outpatient services, intensive outpatient services and partial hospitalization. Those interested in receiving help can call the office at (814) 226-4171 or fill out the referral form online at https://www.cenclear.org.
CenClear is able to accept private insurance as well as Medical Assistance. If a consumer does not have insurance CenClear will work with them to help them to help them get treatment.
The public is invited to attend the Ribbon Cutting Ceremony and tour the facility at 12 p.m. Nov. 13.
About CenClear
CenClear was established in 1980 to provide Head Start services in Centre and Clearfield County and has worked closely with local school districts and communities ever since to ensure that preschool is available to as many children as possible. CenClear realized all the issues children faced in preschool couldn't be resolved in a classroom setting. At the time there were limited options for young children in need of mental health services so CenClear began offering mental health services to all ages. Mental health issues sometimes lead to drug and alcohol issues so it began offering these services as well.
Today, CenClear offers mental health services to children, adolescents and adults in 12 counties and drug and alcohol services in four counties. The services vary by county. CenClear's administrative office is located in Bigler, Clearfield County.