Indiana, PA – The Pennsylvania State Police are advising residents and visitors of Indiana, PA of their planned activities during the upcoming Indiana University of Pennsylvania Homecoming weekend of October 3 through October 6, 2019.
They state that with assistance from the PSP Mounted Patrol Unit, the Bureau of Liquor Control Enforcement, and additional Department resources, their troopers and liquor enforcement officers will be "working diligently to provide the best possible police service to [the] community."
Specific efforts planned during this timeframe will include supplemental roving patrols and aggressive traffic enforcement activities focused on a "zero tolerance" approach.
Troopers will actively patrolling neighborhoods and highways to investigate all criminal activity and traffic violations such as DUI, Public Drunkenness, Disorderly Conduct, Scattering Rubbish, Obstructing Highways and Other Public Passages, etc.
The following investigations were conducted by Members and Enforcement Officers of the Pennsylvania State Police assigned to or in support of the "IUP Homecoming 2018" detail, which was operational from October 4 through October 7, 2018: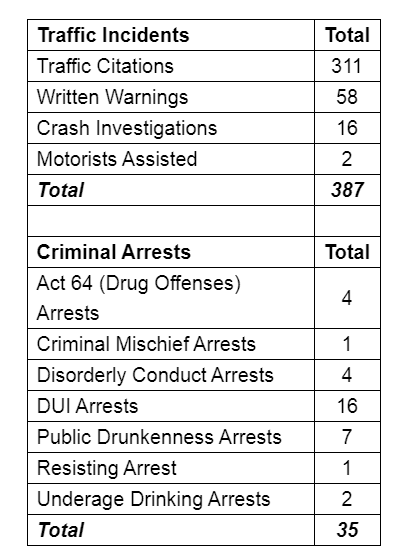 *It should also be noted that there were no founded incidents of Simple Assault or Aggravated Assault investigated by troopers assigned to or in support of the "IUP Homecoming 2018" detail.
Police remind residents and visitors to expect to see troopers on horseback patrolling various neighborhoods and that as per PA Title 18, Section 5511.2(a), Police Animals, "It shall be unlawful for any person to willfully or maliciously taunt, torment, tease, beat, kick or strike a police animal." An offense under this subsection is a felony of the third degree.
As always, residents and visitors of Indiana, PA are encouraged to call 911 to report suspicious or criminal activity.