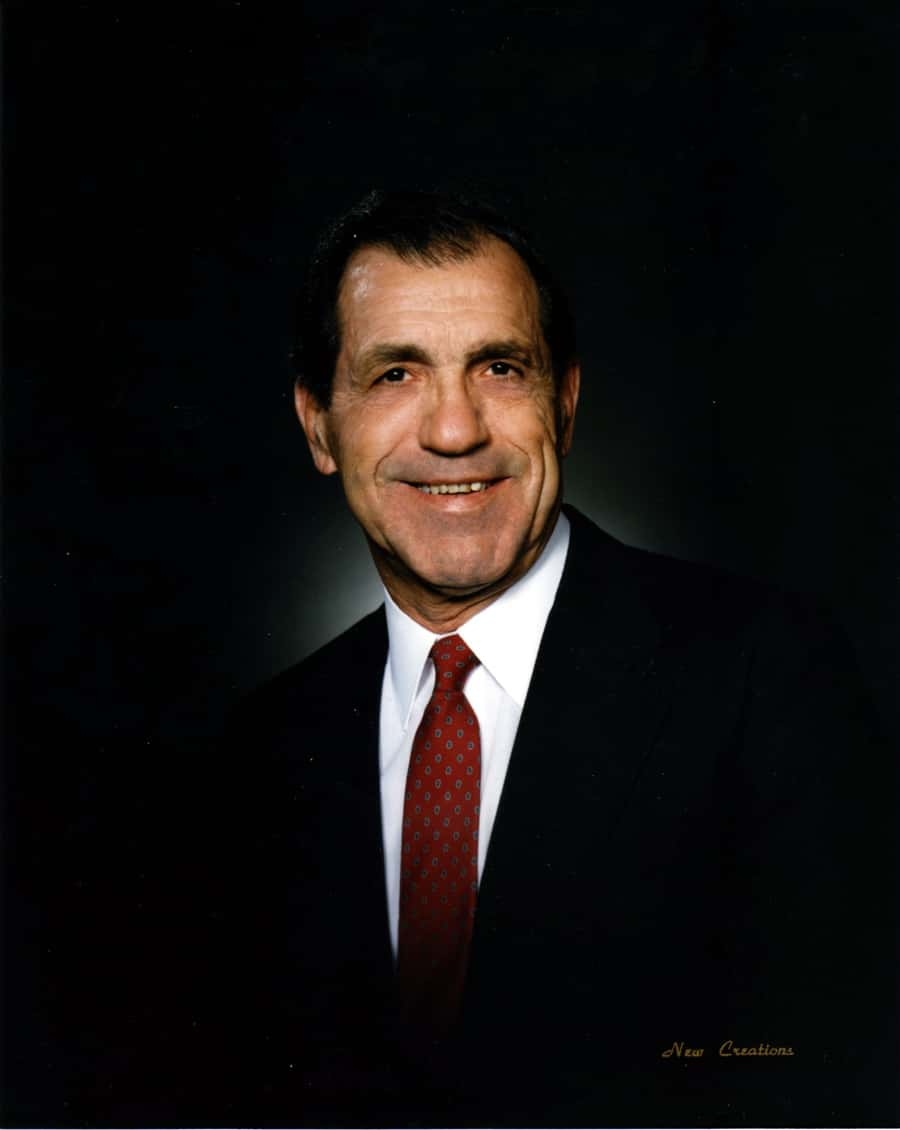 Frank Lignelli, Jr.
Frank "Ligg" Lignelli, Jr., well-known Clarion resident, passed away on September 1, 2019 at UPMC Northwest following a period of declining health. He was 94 years of age.
Frank was born on April 26, 1925 in East Monongahela, Washington County, PA, the son of the late Francesco and Domenica (Pascarella) Lignelli. His parents emigrated from Italy in the early 1900s. There were 8 children in the family; all his siblings have preceded Frank in death. He was the last surviving member of his family.
On November 21, 1949, he married the former Joyce R. Simpson, who survives. Together they enjoyed nearly 70 years of marriage, building a home, raising their children and enjoying life around the Clarion community and college.
After graduating from Monongahela High School in 1943 he served in the U.S. Navy during World War II in the Mediterranean and the Pacific aboard a mine sweeper. He came to Clarion in the Fall of 1946 and the rest is history. As a student athlete Lignelli earned 11 varsity letters including 4 in wrestling and football and 3 in baseball. A center & linebacker in football, wearing #78, he was named to the "Little All-America" team among other awards. A wrestler at 175-pounds, he spent the last two years as student coach. In baseball he led the team in hitting his senior year with a .462 average.
Upon graduating from Clarion in 1950, Lignelli then spent a year teaching at North Versailles Elementary, then taught and coached at Monongahela High from 1951-57. He was assistant football coach 5 years and head coach 1 year, plus head soccer coach 6 years. His soccer teams won the WPIAL Championship in 1956 and 1957.
In 1957, he returned to his alma mater to revitalize Clarion's wrestling program as head coach. In the 1959-60 season and in 7 years was 69-12 in dual meets, plus won the school's first PSAC title in 1965. He also coached the golf team for 10 years (1977-86) and led Clarion to the PSAC title in 1982 and NAIA D-18 crowns in 1982 and 83.
Frank spent 37 years devoted to Clarion University. He succeeded Waldo S. Tippin as Athletic Director in the Fall of 1966 and was the Golden Eagles Athletic Director from 1966-90. He led Clarion to unprecedented athletic success as the #1 Athletic Department in the PSAC and recognized nationally among the elite athletic programs.
With Lignelli as Clarion's A.D. the Golden Eagles won 59 PSAC titles, 12 national championships, and countless PSAC-West and PSAC runner-up honors. During that time the football team was 165-73-3 (68%), while NCAA Division I Wrestling was 301-107-2 (74%) and men's basketball posted a 352-257 (58%) mark. Football won 4 PSAC and 7 PSAC-West crowns, basketball captured 8 PSAC-West titles and wrestling won 9 PSAC titles and placed in the top 15 at D-I nationals 7 times. Clarion's success was widespread as Women's Gymnastics won Division I team titles in 1977 and 78, women's swimming and diving won 8 Division II national championships and 15 straight PSAC titles, while men's swimming and diving won 19 straight PSAC crowns and placed as one of the top teams at nationals nearly every season.
He was active on campus in a variety of capacities. Lignelli was Director of Housing, Dean of Men, Financial Aid Director and more from 1960-66. An active community member, he served as President of Kiwanis, on the Clarion Hospital Board, Borough Council, and Board of Directors of the Clarion Chamber of Commerce. He was also instrumental is starting the Clarion Little League. Lignelli also started the "Quarterback Club" in 1966 as a generator of funds for football. He also started to raise money for scholarships following 1966 and was the driving force behind the Centennial Scholarship Fund started in 1967. The name was changed to the W.S. Tippin Scholarship Fund in 1974-75 which remains today. Lignelli raised well over a million dollars for general athletic scholarships.
Frank is survived by his wife, Joyce; his children, Joy Lynne Lignelli of Pittsburgh, and Frank Lee Lignelli of San Francisco; along with numerous nieces and nephews.
Memorial donations may be made in Frank's honor to the Frank Lignelli Scholarship Fund at the Clarion University Foundation, 840 Wood St., Clarion PA 16214 (https://alumniandfriends.cuf-inc.org/), the First United Methodist Church, 600 Wood Street, Clarion PA 16214 (www.fumc-clarion.org), or the Leukemia & Lymphoma Society, Western PA & West Virginia Chapter, River Walk Corporate Center, 333 E. Carson St., Suite 441, Pittsburgh PA 15219 (www.lls.org).
Arrangements are under the care of the Goble Funeral Home and Crematory, 330 Wood Street in Clarion where visitation will be held on Thursday 2-4 and 6-8 p.m. An additional visitation will be held at the First United Methodist Church, 600 Wood Street in Clarion on Friday 12:00 noon to be followed by a celebration service of Frank's life at 1:00 p.m. Military honors will be accorded at that time by the Funeral Honor Guard of American Legion Post 66, Clarion. Rev. Arnie Rhodes will be the officiant. Interment will be in the Clarion Cemetery.
Friends and family may send online condolences, order flowers and memorials, and obtain additional information by visiting www.goblefh.net.