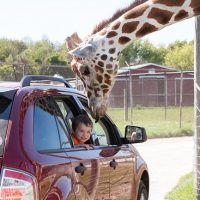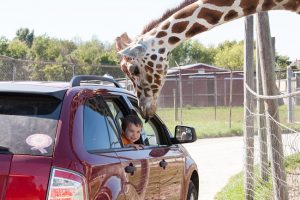 Port Clinton, OH – Tired of fighting the crowds and standing in endless lines?  Why not try something different this summer.  Surrounded by dozens of attractions African Safari Wildlife Park is located on the coast of Lake Erie in Northwest Ohio. The park covers more then 80 acres and includes animals from Asia, Africa, North and South America in a large roaming preserve.
Here guests and their families can travel through the preserve of roaming animals in the comfort and privacy of their own vehicle.  During the tour, guests see hundreds of animals living together. Feed Elk, Bison, Giraffe, Zebra, Deer, Alpaca, and Camel from the cup of food provided by the park.  Don't forget to bring a camera to capture memories! Each spring we have many "new arrivals," keep your eye out for hiding babies.  We also offer a Walk-Thru area, where there are many animals on exhibit.
Some of our residents of the Walk-Thru include over 400 Budgies in our Aviary Adventure, Kangaroos, Porcupines, Antelope, Warthog and more!