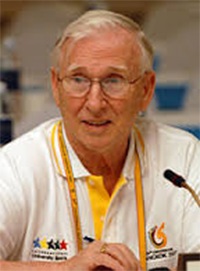 Donald Ericsson Leas, of Clarion and Payson, AZ, passed away on April 25, 2019 at Allegheny General Hospital. He was eighty-four years old.
Born on October 23, 1934, in Philadelphia, PA, he was the son of the late Florence Elizabeth (Leaf) Fisher and Robert William. Don was married January 8, 1999, in Clarion to Carol Kengor Leas, who survives. He is also survived by a daughter, Barbara Ann (Thomas) Crow, and a son, Michael Kenneth Leas, both of Payson, AZ. He is also survived by four grandchildren and seven great grandchildren. Also surviving is a sister, Florence Fisher of Sellersville, PA; stepchildren, Andrew Womeldorf, Butler, PA; Leigh (Orlando) Carrasco of McLean, VA; William (Star) Kern of San Antonio, TX; their families and numerous nieces, nephews and cousins. He was preceded in death by his parents and a brother, Leon Fischer.
Don and Carol enjoyed many years traveling throughout the United States visiting their children and grandchildren. They also enjoyed traveling to numerous countries for cruises and diving events.
Don was a 1953 graduate of Northeast High School in Philadelphia; graduated in 1957 from Michigan State University with a Bachelor of Science Degree in Health and Physical Education and graduated in 1959 from Southern Illinois University with a Master of Science Degree in Health and Physical Education. He taught General Science and Health and Physical Education for two years at East Aurora High School in Illinois where he was also Head Swimming and Diving Coach and Cross Country Coach.  He then went to the University of Illinois to work on his Doctorate and coached gymnastics and diving from 1961 to 1965.  Don then went to St. Cloud State University, Minnesota, to teach and be the head coach for Swimming and Diving.
In May, 1966, he was hired by Dr. James Gemmell to be the chairman of the Department of Health and Physical Education at Clarion.  When the University moved into Tippin Gymnasium and Natatorium, Don also became the Diving Coach and Bowling Coach.  Don coached 36 National Champions and over 135 All-Americans in Diving, two of whom became members of the United States Olympic Diving teams.  Don was named NCAA Swimming Coach of the year in 1984 and NCAA Diving Coach of the Decade.  Don also served a term as Pennsylvania State Chairman of College Health Education.  Don retired from Clarion University in 1997 as a Professor Emeritus.
Don was a member of the First United Methodist Church in Clarion where he was on the Finance Committee, taught Sunday school, and was a member of the Chancel Choir; and the Prescott United Methodist Church in Arizona, serving on the Finance Committee and the Choir.  Don was a member of the Clarion Rotary Club, joining in 1966 where he was chairman of the Classification Committee and served on the Membership Committee and numerous other committees; and a member of the Prescott, AZ, Rotary Club, joining in 1999.
In the middle 1970s, Don served a four-year term on the Clarion Borough Council where he chaired the Housing and Zoning Committee and wrote a new Housing and Zoning Ordinance.  Red Bevevino and Don started the first YMCA in Clarion in the 1970s which operated out of a house on the corner of 7th and Main Street for the youth of Clarion.
In 1995, Don moved temporarily to Atlanta, Georgia to run the 1995 FINA World Diving Cup and the 1996 Olympic Games' Diving Competition.  In 1977, Don was named the Diving Coach for the U.S.A. Diving Team to the World University Games in Sofia, Bulgaria.  In 1981, Don was named the Diving Judge for the World University Games in Bucharest, Romania, where he was selected to be the International Chairman for Diving for the international collegiate diving competition and for which he has served to the present for a total of 36 years.  He has been instrumental in increasing the number of events from four in 1981 to 15 for the event this year in Taipei, Taiwan.  Don also ran the National YMCA Diving Championships in Fort Lauderdale and FINA Grad Prix for 37 years.
Since 1999, Don has been the National Chairman of the committee that sets the American National Standards for Public Swimming Pools, since 2012 the National Chairman that sets the standards for Public Spas, since 2015 the Vice Chair of ICC's International Swimming Pool and Spa Code, and a consultant to the CDC's committee for the Model Aquatic Health Code.
Besides the activities above, Don has been a consultant for Aquatic Facilities in the U.S. and internationally, including the U.S. Air Force Academy; the University of Wisconsin; Fort Lauderdale, FL; Northern Arizona University; Greensboro, NC; Yale University; Springfield College; Toronto, Canada; Gwanju, Korea; Kazan, Russia; Taipei, Taiwan, China; Izmir, Turkey; Bangkok, Thailand; Sicily, Italy; Naples, Italy; and the Northside Independent School District of San Antonio, TX; among others.
In lieu of flowers, memorial donations may be made to the First United Methodist Church, 600 Wood Street, Clarion PA 16214 (www.fumc-clarion.org).
Arrangements are under the care of the Goble Funeral Home and Crematory, 330 Wood Street in Clarion where visitation will be held on Friday, May 3 from 2-4 and 6-8 p.m.  An additional visitation will be held on Saturday, May 4, from 10-11 a.m. at the First United Methodist Church, 600 Wood Street in Clarion.  Funeral services will follow at the Church at 11:00 a.m. with Rev. Kevin Haley officiating.
Friends and family may send online condolences, order memorials, and obtain additional information by visiting www.goblefh.net.