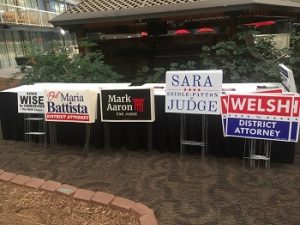 The Annual Spring Breakfast with the Candidates was held Friday at the Clarion Ramada Inn.  Over 100 people attended the open forum, where each candidate had five minutes to speak, with a question and answer session after the formal program.
Candidates that attended included:
For the Clarion County Commissioners Office:
Ed Heasley, Kirke Wise, Ted Tharan and Wayne Brosius
Candidates for Clarion County Judge:
Mark Aaron, Sara Seidle-Patton and Erich Spessard
Candidates for Clarion County District Attorney:
Drew Welsh and Maria Batista
The event was sponsored by the  Clarion Chamber of Commerce, the Clarion County Economic Development Corp., and the Clarion County Human Services Council.
The primary election will be held on Tuesday May 21st