STUDENT ARCHERS TO COMPETE FOR STATE TITLE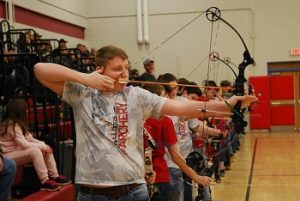 HARRISBURG, PA – A huge opportunity is "nocking" for Pennsylvania's student archers.
The 2019 National Archery in the Schools Program State Tournament is set to be held Friday, March 8 in State College. It's shaping up to be the biggest student archery tournament ever in Pennsylvania.
Individuals and teams have all shot a qualifying score at one of the many state qualifying matches being held the last few months. The top-scoring teams and individuals have earned an invite to the state championships.
The NASP state tournament has been growing since its inception in 2011, and the March 8 tournament to be held at the Penn State Multi-Sport Facility figures to field close to 1,000 participants. Students from more than 45 schools across Pennsylvania are expected to participate. The increase is representative of growth in the program statewide.
NASP, which started in Kentucky in 2002 and has since gained participants around the globe, came to Pennsylvania in 2005. The Game Commission began coordinating the program in 2010 and, to present, the program has expanded to 270 schools.
The tournament should be a sight to see. Ninety-five lanes, each with two archers, will be operating at once. About 9,000 arrows will fly each hour. And somewhere near 46,000 arrows will be fired on the day.
Over $10,000 scholarships and prizes will be handed out to the top-performing archers in the state to help pay for continued education.
NASP helps school districts in Pennsylvania meet physical-education curriculum requirements set by the state Department of Education, and at the same time introduces students to the world of competitive archery.