C93 and WWCH 1300 AM Presents the 12 Days of Christmas! Sign up at area businesses for a chance to win one of 3 prizes worth $100 – plus many daily prizes.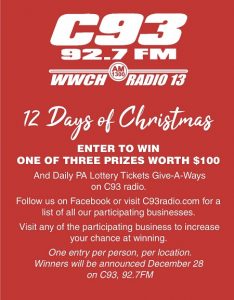 Sing-up today at one of the 12 Days of Christmas Sponsors!
Sponsor Location Include:
12 Days of Christmas Sponsors: 2019
Dan Smith Candies and Gifts: 50% off all gifts table free gift wrapping and free parking, and great deals every day, stop in to fill your stockings or wish list
Cricket Song Café: Your all in one entertainment and dining in the area, open for lunch every day, dinners on Fridays and Saturdays, and Sunday Brunch. Have an event? Let cricket song be your next venue
Michelle's Café: warming you up this Christmas with gourmet coffees, teas and homemade soups and sandwiches. Stop in for your cup of Christmas cheer
Jeff's Performance Plus: Stop in a buy a remote starter for the one you love and enter to win a full detail for your car
Emery's Outlet Express: Filling your car, your belly and now your stockings- with a new gift corner inside and now available to cater events everything you need can be found at Emery's
Marianne Pharmacy: more than a pharmacy, UPS drop off, supplies and gift giving ideas all under one roof. You're locally owned health mart pharmacy, caring for you and about you.
Ray's Hot Spot: Marienville's #1 Hot Spot, drink specials, local bands and entertainment – the spot to be is Ray's Hot Spot in Marienville follow them on Facebook for weekly entertainment guide
The Medicine Shoppe:  stop in and speak with any of the knowledgeable staff, covenant drive thru service, and gift ideas for the holidays
Clarion Office Equipment; will help increase your businesses
productivity and profitability with computer systems, Ricoh Copiers,
Computer Repairs, Business Machines and office Furniture .Clarion
Office Equipment, Greenville Pike, Clarion "Equipped for your future.