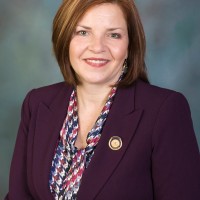 ---
HARRISBURG — To ensure that premature babies have the best nutrition to help them grow and thrive, Rep. Donna Oberlander's (R-Clarion/Armstrong/Forest) bipartisan legislation to regulate and license donor human milk banks in Pennsylvania unanimously advanced through the House Health Committee on Tuesday.
"By regulating and licensing milk banks, we can have greater confidence that a healthy supply of milk will help infants, many of whom may have been born medically fragile," said Oberlander. "Human milk has scientifically been shown to be the best nutrition for infants, especially those facing health and growth challenges from their very start. This legislation will go far in helping these at-risk infants have a better chance at a healthy life."
House Bill 2516, which now goes to the full House for consideration, seeks to ensure the supply of human milk gathered and stored at these banks is healthy and safe. Milk banks screen volunteer donors and collect, store and process the milk for distribution, but there are no guidelines established in state law. This legislation, which she is sponsoring with Rep. Rosita Youngblood (D-Philadelphia), would set those parameters so that all milk banks rely on the same standards.
Donor milk is life-saving medicine for infants with very low birth weights less than 4 pounds, preventing the onset of serious gastrointestinal problems that can require surgery and entail thousands of dollars in medical costs.
Without donor milk, these health issues can continue throughout that child's life. Donor milk is also medically prescribed for children with heart problems and other compromising health care issues.
Specifically, the bill calls on the Pennsylvania Department of Health to license donor milk banks if they are in compliance with the act or certified as a member in good standing of the Human Milk Banking Association of North America or another nationally recognized accrediting organization for the operation of milk banks. It also outlines licensure fees and prohibited practices that would preclude the direct or indirect sale of human milk by any entity not licensed in Pennsylvania. 
The Department of Health would have to prepare a biennial report providing the number and location of licensed milk banks and a summary of the amount of donor milk donated, processed and distributed in Pennsylvania.