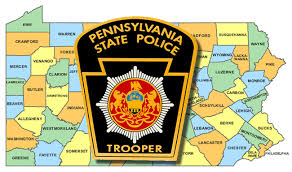 Clarion Based State police report that three men received serious injuries in a accident on Miloa Road, on Saturday, January 6th at 2:25 am. Police say that 2005 Chevrolet Pick-Up operated by Jed Beichner, 33, of Shippenville was traveling south on Miola Road and left the road way on the east side and hit a tree.  Beichner and his passengers: Kirk Heath, 41, of Shippenville and William May, 48, of Shippenville, all received serious injuries.
##
Clarion Based State Police report that a Sligo man was driving too fast for conditions and crashed his vehicle into a tree. The accident occurred on January 6th at 6 am. William Vanderbilt, 21, of Sligo was traveling south on state route 68 in Monroe Township Clarion County. Police say that he was traveling to fast for conditions, and lost control of his 2015 Toyota Corolla and hit a tree. Vanderbilt was not injured, but was charged with DUI.
##
Clarion State Police have charged an employee of Training toward Self Reliance with recklessly Endangering another Person and DUI, after a December 5th traffic accident. While investigating a two vehicle accident that occurred on Route 208 in Salam Township, Clarion County, police report that Amanda Nicole Colwell, 24 of Knox was under the influence of a controlled substance at the time of the crash. At the time of the crash Colwell was working for and driving a TTSR vehicle, with a client of the program in the vehicle.
##
Sleeping in the drive through lane at the New Bethlehem Burger King has gotten a Templeton man into big trouble.   Police report that Clifford James Boyer, 29, was found sleeping inside his vehicle in the Burger King Drive thru-stall, by Clarion EMS.  DUI Charges will be filed,
##
State Police are looking for information on a Hit and Run Crash that occurred on January, 1, 2018 at 11:06 am, near the automotive bay at Walmart. Police report that a newer silver in color Chevy sedan with a moon roof backed out an automotive bay at Walmart and hit another vehicle. Police say the suspect is a older white female. If you have any information, please call Trooper Fluke at 226-1710