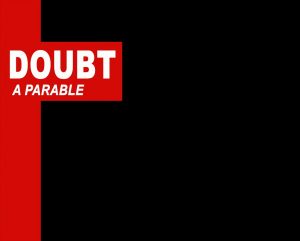 Clarion University Department of Visual and Performing Arts will present "Doubt, a Parable" at 8 p.m. Oct. 11-14 and at 2 p.m. Oct. 15in the auditorium of Marwick-Boyd Fine Arts Center.
"Doubt," written by John Patrick Shanley, follows four people as they deal with accusations of improper conduct against one of the characters, Father Flynn, portrayed by Tree Zuzzio of Camp Hill. The play is set in the Bronx in the fall of 1964. Sister Aloysius (Lindsay Smelcer of Bensalem) suspects the parochial school's parish priest of improper conduct with one of the young boys at the school. While Father Flynn is beloved by the other teachers and students, Sister Aloysius harbors feelings of mistrust toward him and many others. Sister James (Kylie Judy of Franklin) is caught in the middle. The mother of the boy who gets caught up in the scandal is portrayed by Shayla Barrett of Johnstown. Understudies are Dante Engelmann of Munson and Niki Bedford of Harrisburg.
Senior technical theatre major Courtney Chaplin of McMurray is stage manager, and Abigail Stone-Huchko of Burgettstown is assistant stage manager. Senior technical theatre major Thomas Feather of Windber designed the scenery. Theatre professors Ed Powers and Myra Bullington designed lighting and costumes, respectively. Additional crew members are Bobby Reiser of Langhorne, props, Anna Matia of Pittsburgh, sound designer, and Ali Landers of Philadelphia, dramaturg. 
Tickets, available at the door, are $12 for adults, $9 for children 12 and younger, and free for Clarion University students with valid university ID.