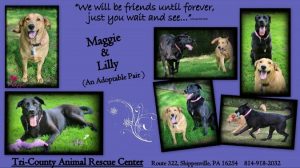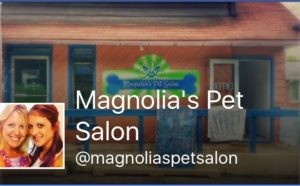 Meet Maggie and Lily! !  The Magnolia's Pet Salon Pets of the Week.
It's happy hour at Tri-County Animal Rescue Center and here's what's on tap: woofers for twofers.  Lily is a shy and awkward, 5 year old Mastiff mix; Maggie, a 6 year old collie mix, is Lily's outgoing, socially adjusted counterpart.  If Lily was a martini, Maggie would be the olive; if Lily was the gin, Maggie would be the tonic, if Lily was a margarita, Maggie would be the salt!  You get the pitcher: you can't have one without the other.  This sweet bonded pair ended up in the shelter when their caregivers broke up as a couple, but the bond between Lily and Maggie cannot be broken.  Looking for a little euphoria in your life without the hangover?  Try shaking it up with Lily and Maggie.  To share a glass of kindness with these two BFFs, please contact Tri-County Animal Rescue Center on Facebook, call 814-918-2032, or email: contactus@Tricounty-arc.org
The C93 PET OF THE WEEK is presented by Magnolia's Pet Salon at 661 Greenville Pike, Clarion call 226-6171 see them on Face Book!
\