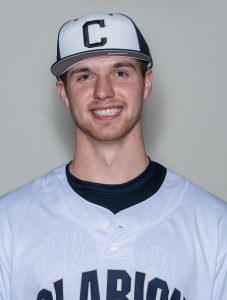 CLARION, Pa. – Clarion graduate Tyler Falk was named to the Pennsylvania State Athletic Conference (PSAC) Spring Top 10 list on Tuesday, adding another item to the long list of academic and athletic accolades he can boast.  Falk was previously a 2016 Spring Top 10 selection, as well.
Initiated in the 1997-98 academic year, the Top 10 Award is given to five males and five females in each athletic season: fall, winter, and spring. It is chosen by the league's sports information directors and are designed to recognize student-athletes who excel in both the classroom and in athletic competition.
Falk graduated from Clarion in May with a degree in Finance and a perfect 4.0 GPA. The senior first baseman finished his career at Clarion with one of the highest academic honors in the country, earning CoSIDA Division II Baseball Academic All-America of the Year.  He became the first male Golden Eagle to earn Academic All-America of the Year honors in the process, and is still the only Clarion baseball player in program history to earn Academic All-America recognition.  Falk is a two-time selection for that award, having earned second-team honors in 2016 and first-team honors in 2017.  He was also an Academic All-District selection in 2015.
A native of Fombell, Pa., Falk earned Second Team All-PSAC West honors for the second time in his career in 2017.  He led the Golden Eagles in multiple offensive categories, including batting average (.375), slugging percentage (.539), on-base percentage (.491), OPS (1.030), total hits (48) and extra-base hits (15).  He walked a team-high 30 times while striking out just 13 times in 160 plate appearances.
Falk's numbers hold up in Clarion history as well.  He finished his career second all-time in batting (.371), games played (159), games started (158) and total hits (186).  He ranks third all-time in runs (91), RBI (96) and on-base percentage (.452), fourth in home runs (12) and fifth in slugging percentage (.531).